The "Big Turd"
December 2005
Malibu 2005
With Claudia, Ross and Beth
Cozumel 2005
Antelope Valley Desert Divers
Key West 2005
Visiting with Chip, Linda, and Nicki
Catalina Island 2005
Diving the Piper Cherokee
Jenny Lynne 2005
Bikini 2004
Wrecks of Bikini and Majuro (Marshall Islands)

Cayman Brac 2004
Kona 2004
LavaMan Triathalon and shore diving with Beth and Ross
Anacapa Island 2003
Kona 200

3


Lots of Turtles at the "Place of Refuge"

Lake Havasu

2002


Ross and I looking for the hypothetical "Underwater Ghost Town"

Sierra Nevada Mountains 2002
Pre 1916 Model-T Truck radiator I recovered from a lake in the Sierra Nevada Mountains
Bikini Atoll 2002


T

he bow of the USS Anderson (the bottom is at 175')
Bahamas 2001
Up close and personal with a Scorpion Fish
Cozumel 2000


T

he wheelhouse of a sunken ship
Belize 2000
Swimming with wild dolphins in the open ocean
Catalina 2000
The Garibaldi is the state fish of California

Sea of Cortez 1999
Swimming with Giant Mantas in the open ocean
Colorado River 1999
There's nothing like diving the bottom of a river in a 4-6 knot current
Cenote Dive 1998
Ready to head underground for

my

first cavern dive
Cozumel 1998
Shark taking a Siesta under a ledge
Sea of Cortez 1997
A Green Moray that I pissed off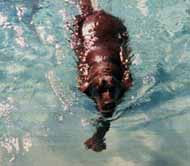 Even my dog likes the water!!!

If you live or work in the Antelope Valley this is a great club to belong to. Click on the link above for more information.

Operations I Recommend
Nekton Pilot Diving Cruises
Great live-aboard boat with a well trained crew and Captain. They offer dive trips off the coast of Belize and in the Bahamas.
Click here for pictures I shot while diving from the Nekton Pilot.
Solmar and the Solmar V
Beautiful Sea of Cortez live-aboard with a super Captain and crew.
Click here for pictures I shot while diving from the Solmar V.
Baja Expeditions (Don Jose / La Paz)
Inexpensive (relatively speaking) Sea of Cortez live-aboard.

AquaLand/Palm Software
Gary Lorensen's PalmPilot application - This allows you to save AquaLand dive profiles to your PalmPilot while on vacation and download them to AquaLand Graph when you return (without loosing dive profile information).
Download original "DiveComputer V1.3" from Gary's site
Download a copy of "DiveComputer V1.3" from my site